Wirtschaft MOBIL network: Developing solutions together
Lauterach/Dornbirn, 22 February 2022 – The Wirtschaft MOBIL network consists of leading employers in the Vorarlberg and Liechtenstein regions. 19,358 employees commute daily to workplaces in the Wirtschaft MOBIL companies. Globally, the 14 network partners employ almost 103,000 workers – huge potential for promoting climate-friendly commuter mobility. i+R Group has been part of this network since February.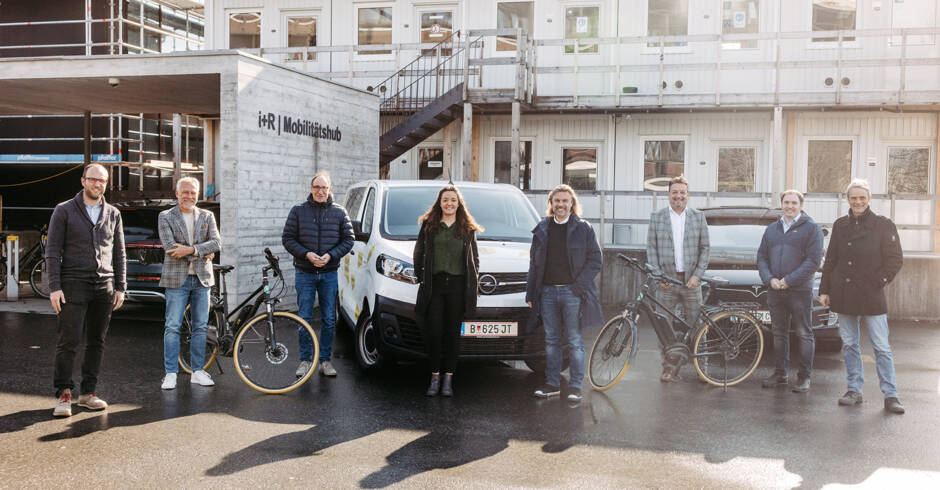 Die Neueinsteiger 2022 beim Netzwerk Wirtschaft Mobil: v.l.: Johannes Traxler (i+R), Joachim Alge (Eigentümer i+R Gruppe), LR Johannes Rauch, Lara Bodlak (Raiffeisen Landesbank), Reinhard Schertler (Eigentümer i+R Gruppe), Manferd Miglar (Vorstandsvorsitzender Stellvertreter Raiffeisen Landesbank), Martin König (BayWa Vorarlberg Geschäftsführer), Martin Reis (Energieinstitut).
"Companies that are used to being in competition collaborate in the Wirtschaft MOBIL network to achieve more for climate protection and ultimately improve the quality of life in the Vorarlberg region by cooperating on mobility management", explains Martin Reis from the Vorarlberg Energy Institute. The Energy Institute created the network and, together with Fritz Führungskreise, has supported it since the beginning. "I am therefore very pleased that as of February 2022 we can welcome three newcomers to the network in the form of i+R Group, BayWa Vorarlberg and Raiffeisen Landesbank Vorarlberg" says Martin Reis.
Think tank for active and eco-friendly commuter mobility
The Wirtschaft MOBIL network sees itself as a think tank for active and environmentally friendly commuter mobility. The network partners jointly develop specific measures and put them into practice. The result of their work in recent years is a toolbox of tried and tested measures for active and environmentally friendly commuter mobility.
"The toolbox is available to all interested parties", explains Martin Reis. It is the fundamental consensus of the members that other businesses should also benefit from the ideas and practical experience of the network partners, who themselves take on pioneering roles.
In addition, businesses in the network have made a significant contribution to initiating tangible improvements in public transport services and cycling infrastructure with various mobility partners such as the local transport association, the cycling coordination of the province, Landbus Unterland and Caruso. For instance, the introduction of a new rural bus rapid transit service (route 14) was launched in autumn 2021 and has since connected operating locations in Bregenz, Wolfurt/Lauterach and Dornbirn.
Connecting mobility management and health promotion
Complex challenges such as climate change need new common approaches. Cross-border solutions are more important than ever before for the region. Last but not least, interdisciplinary approaches achieve sustainable solutions. For example, the deliberate connection of workplace health promotion and workplace mobility management. Members of the Wirtschaft MOBIL network are therefore currently involved in the CSO Interreg project AMIGO, which is adding new aspects to their broad wealth of experience.
Fact box Wirtschaft Mobil network
Founded 2013
Objective: to motivate a clear majority of employees to switch to healthy and environmentally friendly means of transport by 2025. Currently, an average of 53 percent of the employees of Wirtschaft MOBIL companies commute to work by car. The goal is to reduce this proportion by a further 5 percent to 48 percent.
Network members: Haberkorn GmbH, OMICRON electronics GmbH, Hilti AG, illwerke vkw AG, Collini GmbH, Julius Blum GmbH, Zumtobel Group, LKH Hohenems, LKH Feldkirch, Rudolf Ölz Meisterbäcker GmbH & Co KG, Alpla GmbH & Co KG
Newcomers in 2022: Raiffeisen Landesbank Vorarlberg, i+R Gruppe GmbH, BayWa Vorarlberg
Total number of employees (as of February 2022) in the region: 19,358, worldwide: 102,978