Vorarlberg's best family business
Vienna, 22 June 2021 – i+R Group was named Best Family Business in Vorarlberg in the Austria's Best Family Business 2021 awards. i+R Group is delighted to receive this special award, especially in this challenging year overshadowed by the COVID-19 pandemic.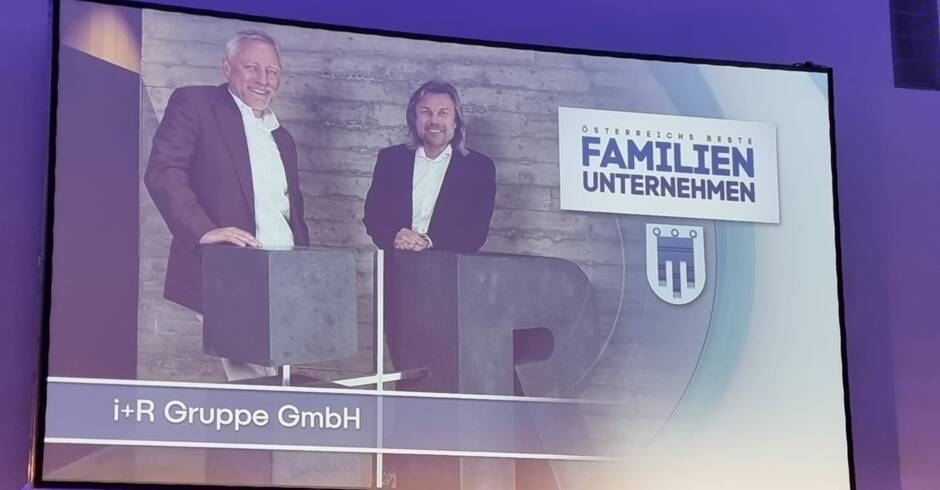 "Die Presse" and its partners Bankhaus Spängler, BDO and the Austrian Chamber of Notaries presented the award for the best domestic family businesses for the 21st time. No fewer than 150 companies were nominated. One company per province was ultimately awarded the Best Family Business prize and one company honoured as the Best Family Business in Austria.
Under the patronage of Federal Minister Margarete Schramböck, a jury of experts evaluated the companies in a multi-stage process in which the size of the companies was irrelevant. i+R Group's win was based on its excellent balance sheet figures, future-oriented product diversity in the three divisions of Construction, Property and Excavators and the high level of security provided by the two owner families.
The owner-managed family business, headed by DI Joachim Alge and DI Reinhard Schertler, now has 1200 employees and generated a record turnover of 700 million euros in the last financial year.
Video of the award ceremony in Vienna