Record year for i+R Group
Lauterach, 16 June 2021 – Despite the pandemic, the companies of i+R Group managed to generate a record total turnover of 700 million euros in the 2020/21 business year. About half of this was accounted for by the Excavator division, 30 per cent by Property and 20 per cent by the Construction division. The number of employees has also reached an all-time high of 1200. The owner-managed family business is currently investing 6.3 million euros at the i+R Campus in Lauterach (A) in the development of 100 office workplaces and an in-house apprenticeship workshop for the construction trades.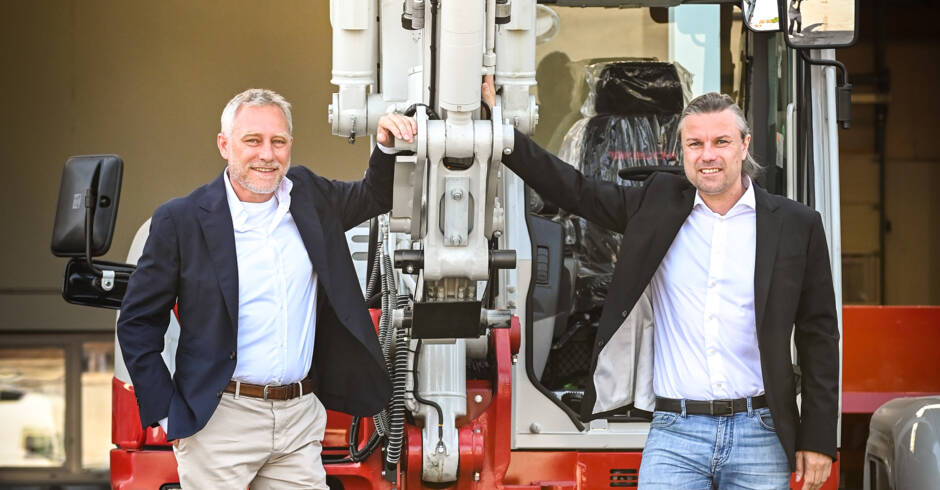 Last year, i+R Group achieved its greatest economic success to date. In the three divisions of Construction, Property and Excavators, group companies achieved a turnover of 700 million euros. This amounts to a doubling of turnover in only seven years. "The COVID-19 pandemic was a challenge for us as well. However, as a family business with short decision-making channels, we were able to act faster and more flexibly than others. We managed to continue to perform at full capacity. Our customers and partners viewed this in a very positive light", reports owner Joachim Alge.
The excavator division (headed by Huppenkothen) generated a turnover of 330 million euros with the sale of 4000 Takeuchi excavators and a rental fleet of 6550 excavators, work platforms and other construction machinery. The Property division accounted for 210 million euros. This division mainly focuses on large project developments in southern Germany: i+R is developing former industrial sites in Constance, Weingarten, Lindau and Memmingen into lively, mixed-use urban districts with around 3000 apartments, offices and shops. "Land is scarce. Therefore, the sensible re-use of such industrial wastelands – known as brownfield developments – as high-quality residential and living spaces is crucial. It is an important contribution to ecological renewal", explains owner Reinhard Schertler, who is himself a trained urban planner.
The Construction division had a turnover of 160 million euros. Orders included major projects such as the flood water pumping station for ARA Bregenz and the recently signed general contractor assignment for the CCL Label packaging group in Dornbirn.
100 additional jobs
In seven years, the number of employees across all locations has doubled to 1200. We now have 831 employees in Vorarlberg alone. This growth means that we have to invest: At the i+R Campus in Lauterach, a new two-storey, timber office building is being erected. A total of 100 additional workplaces are being created for existing and new employees, including meeting and training rooms, meeting zones and a roof terrace, as well as an apprenticeship workshop for construction professions. "Our location in Lauterach will become an i+R campus bit by bit. In this way, we can provide a high-quality working environment for the different companies in the group", Joachim Alge and Reinhard Schertler are convinced.
Outlook
The owners of i+R Group are positive about the future: Demand for our products and services remains strong and the willingness to invest is high. Joachim Alge and Reinhard Schertler expect results for the current business year to remain at the same high level. Investment in our core business and in the training of our own specialists create the underlying conditions for success, as it has during the past 117 years.  
Fact box: i+R Group – Facts and figures:
Owner-managed family business in the 4th generation, founded in 1904
Sectors: Construction, Property, Excavators
50 locations in 17 European countries
Turnover of 700 million euros
Equity: 300 million euros
Long-term property assets: 500 million euros
1200 employees
100 apprentices
Principal companies: Huppenkothen, Martin, i+R Bau, i+R Industrie- & Gewerbebau, i+R Wohnbau, i+R Holzbau, i+R Fensterbau, Lorenz Lift, Digando, Zürs.Mountain.Club (Hotel Edelweiss and Hotel Flexen), Höfle Bautruck, S+B Gruppe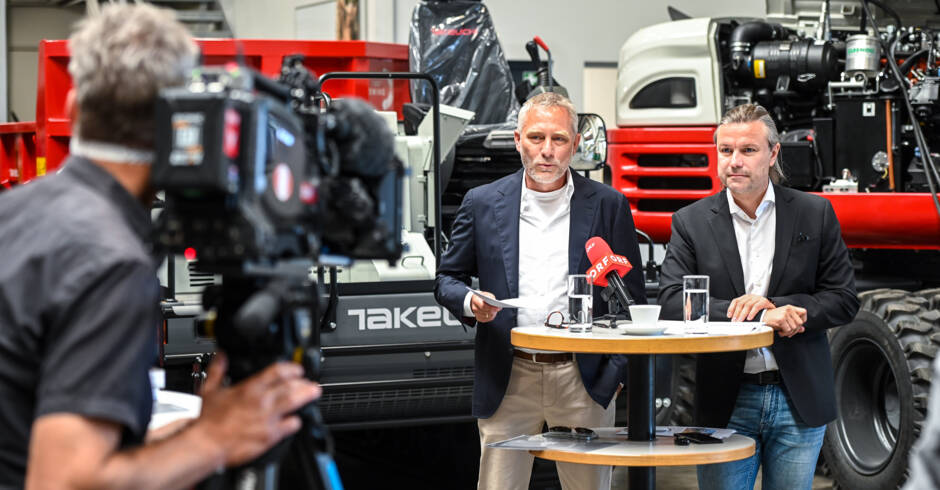 Joachim Alge und Reinhard Schertler, Eigentümer der i+R Gruppe, beim Pressegespräch am 16. Juni 2021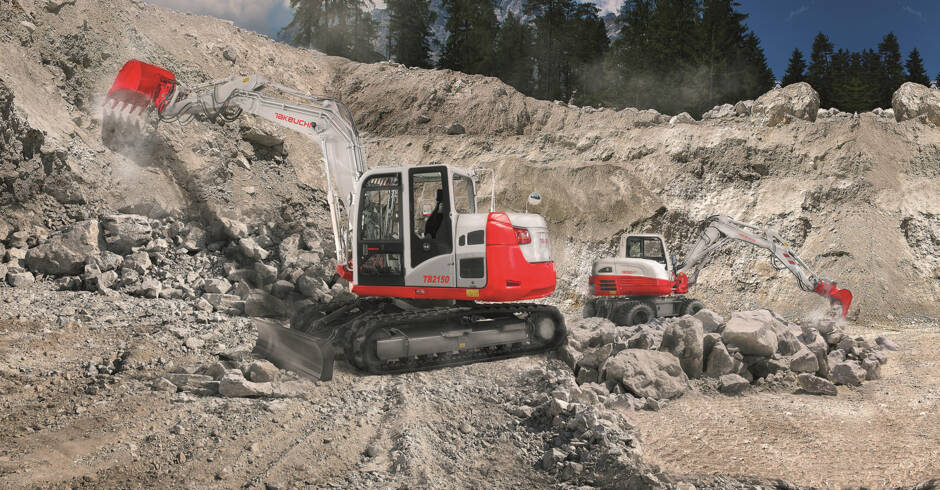 Mit 4000 verkauften Takeuchi-Baggern pro Jahr und mit 6550 Baggern, Arbeitsbühnen und Baumaschinen in der Mietflotte erwirtschaftete die Sparte Bagger 330 Millionen Euro Umsatz im vergangenen Geschäftsjahr.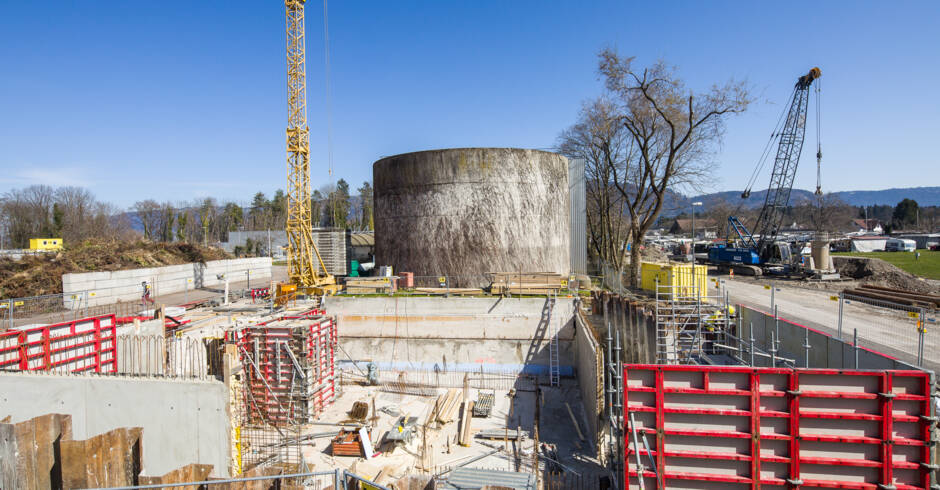 Eines der aktuellen Projekte in der Sparte Bauen: Das Hochwasserpumpwerk für die ARA Bregenz, das im Herbst 2021 fertiggestellt wird.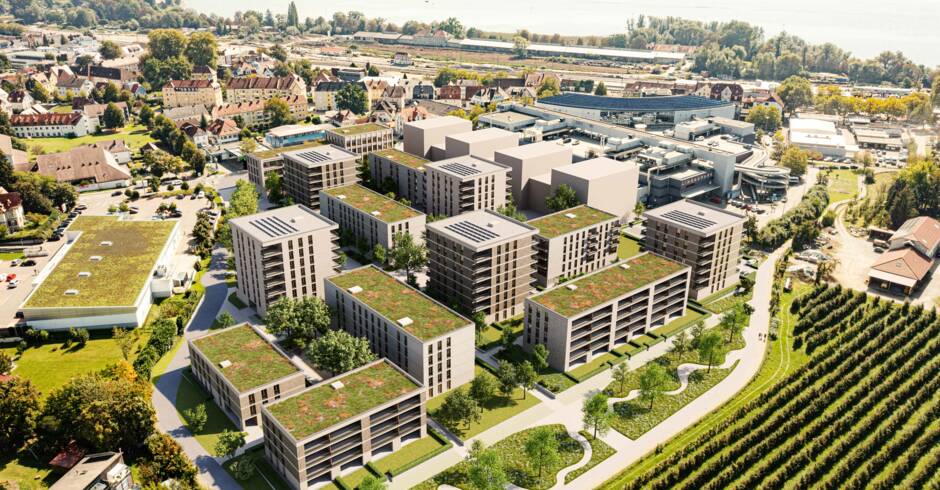 In der Sparte Immobilien liegt der Fokus auf Nachnutzungen von Industriebrachen in Süddeutschland: Das Vierlinden-Quartier in Lindau am ehemaligen Standort des Kältespezialisten Engie.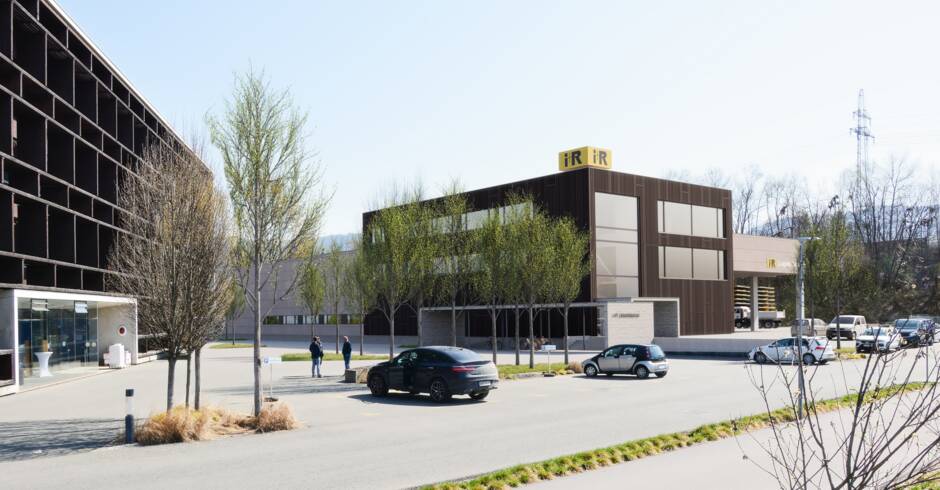 Am Standort in Lauterach werden 6,3 Millionen Euro in den Ausbau von 100 Büro-Arbeitsplätzen und eine eigene Lehrwerkstatt für Bauberufe investiert.