100 apprentices in 16 trades with 41 new trainees
Lauterach, 3 September 2021 – At the beginning of September, 41 young people started their careers with i+R Group. The companies of i+R Group train almost 100 apprentices in 16 apprenticeships in the Construction, Property and Excavator divisions to counteract the shortage of skilled workers.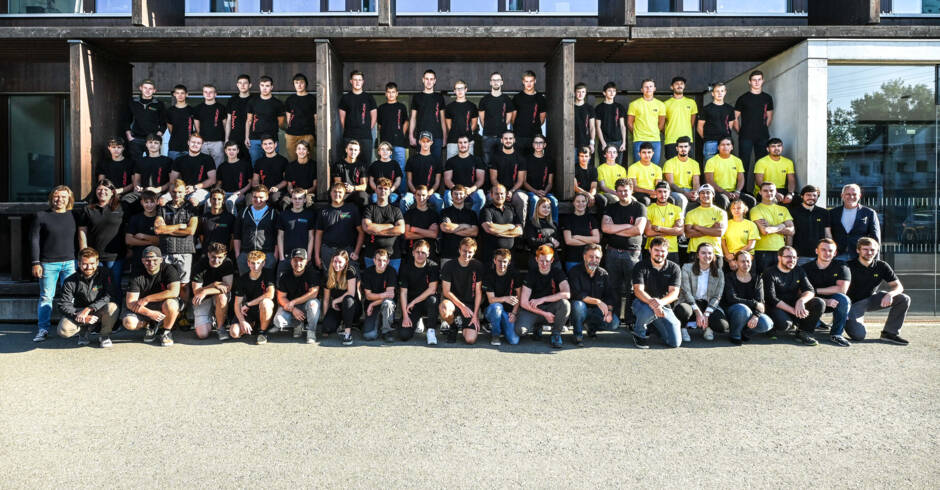 With an average of 100 apprentices, i+R Group is one of the largest apprenticeship companies in the country. "Within the skilled trades, dual training has proven its worth and is vital for us in light of the current shortage of skilled workers", agree i+R Group owners Joachim Alge and Reinhard Schertler. "However, it now takes great effort to ensure that we find young and capable people who see their future in the trades sector."
Apprentices now tend to be older
The owners are happy that 41 new apprentices are starting various courses but there are still some unfilled apprenticeship places here and there. In terms of apprenticeship professions, 19 of the new apprentices want to become construction machinery technicians, 11 structural or civil engineers, three carpenters and three IT specialists, two metal technicians/mechanical engineering technicians and two office administrators, and one is being trained as a company logistics specialist. "It is interesting to note that the starting age for an apprenticeship is now around 18. More and more we are seeing applicants who only stumble upon an the idea of doing an apprenticeship in the skilled trades as a second option", say Reinhard Schertler.
Twenty-one of the total of 41 future professionals are starting their training courses at the Huppenkothen headquarters in Lauterach or in various branches in Austria and Switzerland. Four apprentices will start at the Martin company in Ludesch, 16 in the i+R construction and timber construction companies and in internal administration at the site in Lauterach. Among them are four women: one is learning to be a carpenter, another a construction machinery technician and two others will be trained as office administrators.
New training workshop for construction trades
i+R Group is currently building Vorarlberg's first private training workshop for the construction professions. Dedicated training teams provide professional support within the various companies. "We have to provide additional support in various school subjects, especially – but not exclusively – to trainees with a migrant background. After all, skilled workers only have a good future ahead of them if they graduate from vocational school with good results. We give them a helping hand right from the start, wherever they need it", says Joachim Alge, speaking from many years of experience.